With Dr. Joseph Sowa,
Composer and Scholar

As trusted by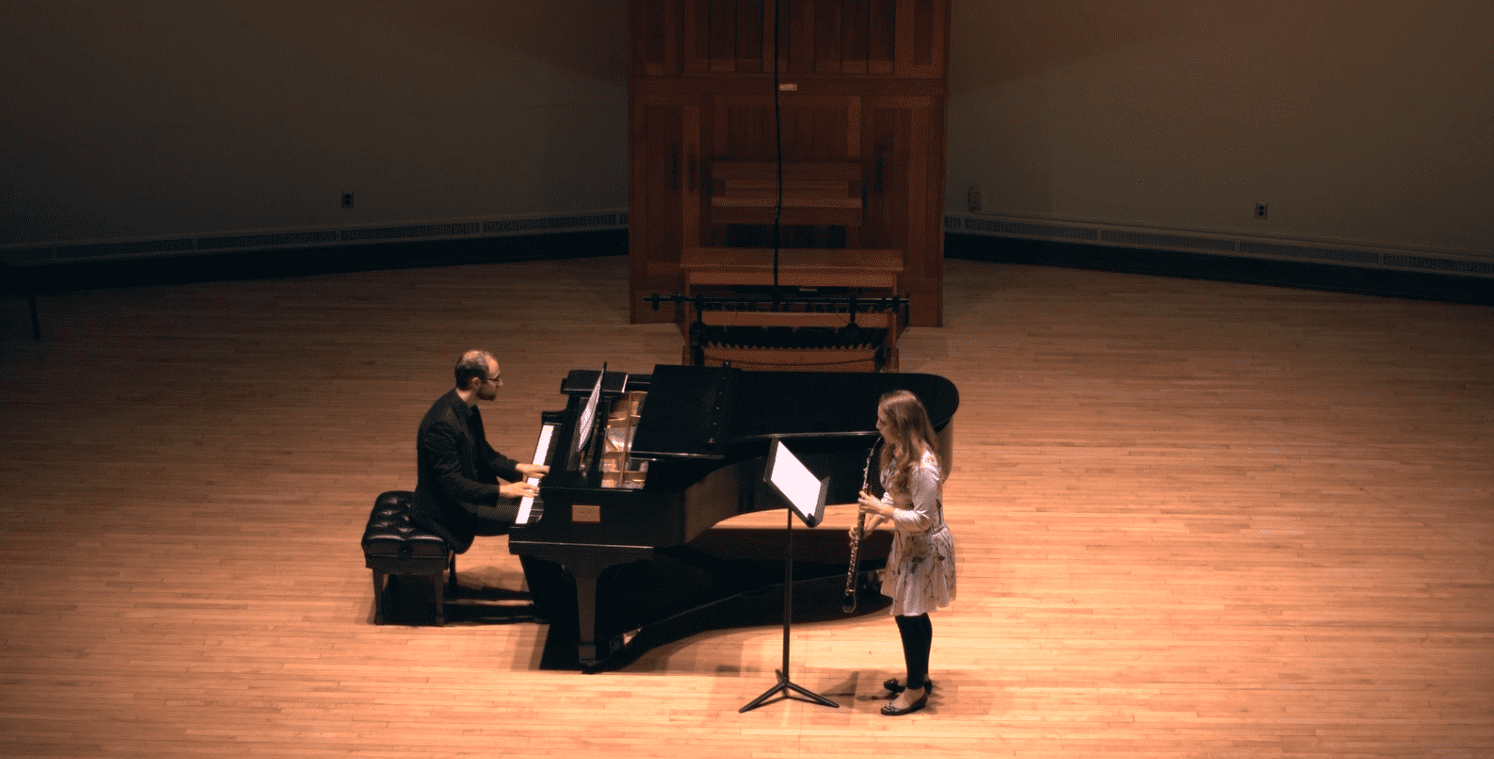 If you want to write music—
that will get performed again and again,
that will make you feel proud of what you've created,
that fully captures your musical vision,
that has the staying power of your favorite living composers,
that spellbinds and astonishes audiences—
Then this is the program for you.
Where Did the Magic Go?
It all began with magic. The piece that gave you goosebumps. The symphony that took your breath away. The song you sang or played for months on end. 
The magic of music transported you to far away lands, captured the depth of your heartache, gave expression to your yearnings, filled you with energy and confidence, and made you believe in a world of possibility.
Utterly bewitched, you wanted to weave that magic, too. You pursued that skill deep into the night on your own and then, later, at music school or in private lessons.
Only to learn . . . mere glimmers of magic. Sparks rather than fireworks. Gimmicks rather than wonders. Musty old card tricks that are but the faintest shadows of what you know you experienced.
Whether in an undergraduate theory classroom, private lessons, or the common, online sources, you only ever found:
Traditional music theory tools that no longer describe the reality of most music being written today.

Jazz and pop music tools that capture modern idioms—but are better suited for songwriting.

Avant-garde music tools that inspire you to create original sounds—but leave you guessing how to use them.

Teachers from all camps who constantly imply—and sometimes outright say— "Musical magic is for the greats and masters, not for us mere mortals."
And so, you were left with a dubious and fragmentary book of musical spells and an incomplete understanding of how to use them.
"I always sensed that I had the ability to be a composer and to make beautiful music, but felt that there just wasn't the path — that I didn't have the tools to make that happen. Because of the Wizarding School, those dreams of composing became possibilities." — Seth Caslteton
Seth holds a DMA in cello performance from the University of Maryland

This. Is. Why—
When you sit down to a blank paper, you feel intimidated.

You spend hours listening to the same fragment over and over wondering what to do next.

You feel frustrated and overwhelmed tweaking details in your score but none of them have the effect you want.

You avoid writing music because it makes you feel like a beginner.

You are scared to share your music with others because you don't know if it's any good.
But it doesn't have to be this way. 
You are not struggling because you lack talent. All the tools and spells you need exist. Though they take incremental training, none of them are hard. Anyone can use them.
These tools are not just for elite-level composers. You, too, can learn the secrets and tricks that power the music of John Williams, Rachel Portman, Eric Whitacre, Jacob Collier, David Maslanka, Jennifer Higdon, and others . . .
You are not consigned to write mediocre music that no one cares about. You can weave the same kind of magic for audiences that your favorite living composers created for you.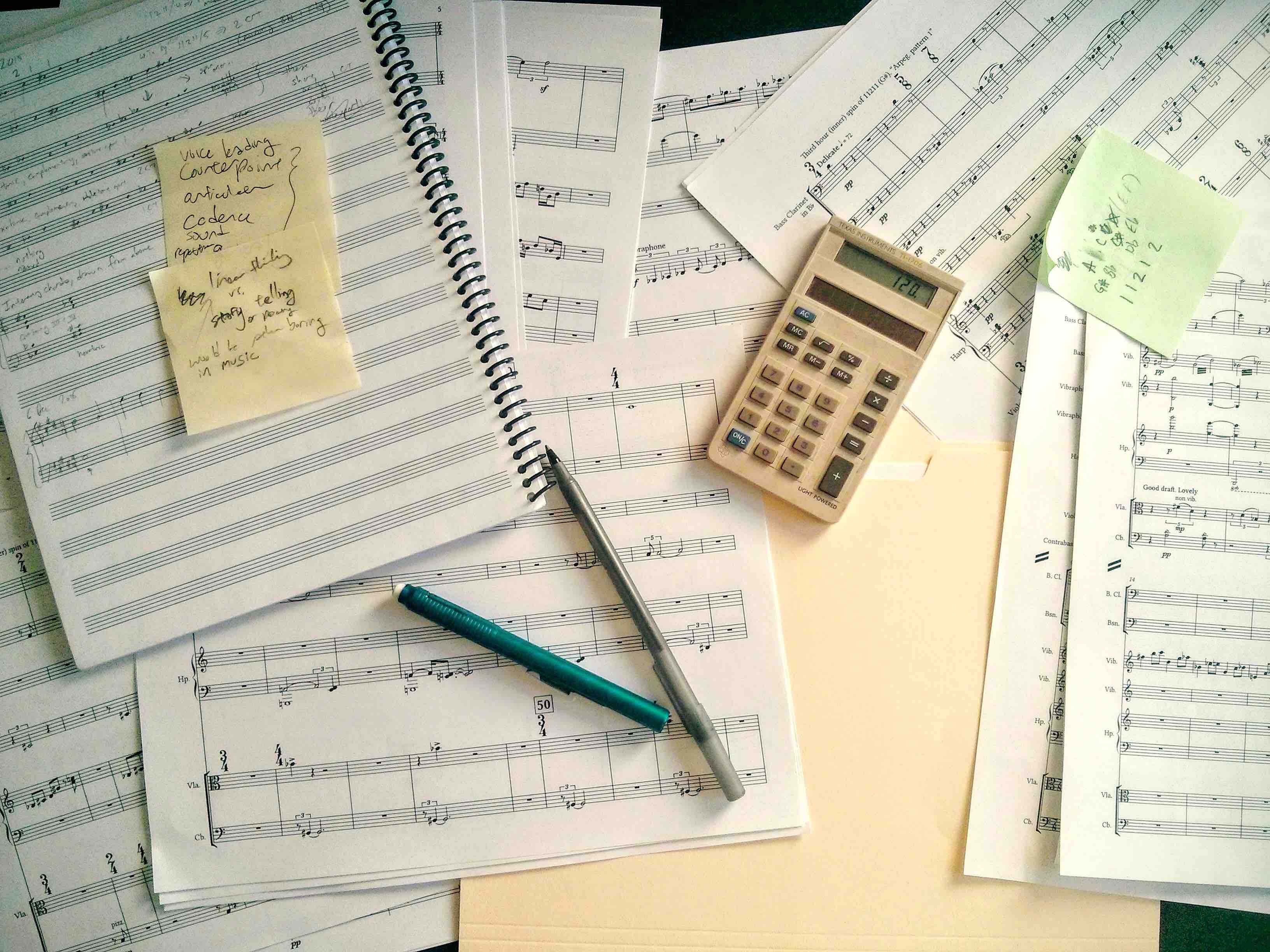 "The Wizarding School really works with whatever skill level you currently have using the genre of music you're most interested in. There's clearly a classical bent to the instruction simply because that's Joseph's background, but his lessons can be applied to any style from classical to jazz to music theater to techno. If you really want to take your composition to the next level, Wizarding School is well worth the investment.
" — Joseph Fletcher
A student in the inaugural Spring 2021 class, Joseph runs a successful piano teaching studio in New England.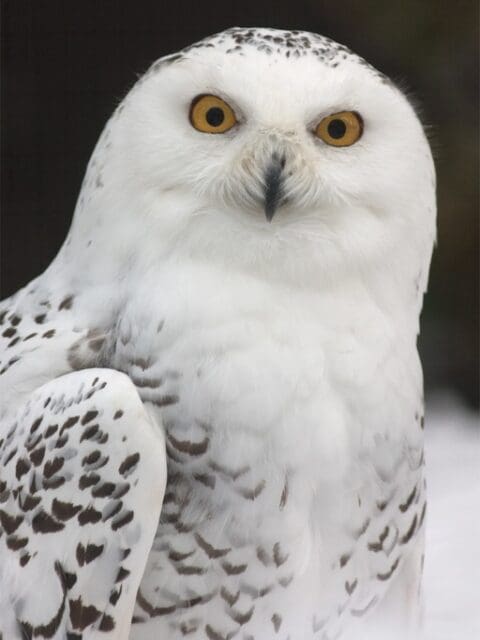 Welcome to the World of Musical Magic
My name is Joseph Sowa, and I personally invite you to my Wizarding School for Composers.
I've created this four-month program for you, so you can:
Experience what it feels like to compose with assurance and ease. 

See what it looks like to conjure up satisfying musical solutions

fast

.

Explore and navigate whole musical worlds that were previously hidden to you.

Go behind the curtain to understand the magic wielded by your favorite composers.

Replicate that magic in your own music.

Watch the wonder and joy it creates in others.
Stop dreaming about attaining such musical magic. You can have it.
How I Lost—and Re-Found—the Magic of Music
I've spent decades studying these questions so you don't have to. 
Despite getting accepted to elite institutions like Brandeis University and competitive summer programs like the Brevard Music Festival, I was deeply insecure about my music. I tried my best to capture the magic I had inside me, but it always came out in sparks and sputters. I devoured books, articles, and blog posts about music theory, history, and aesthetics trying to figure out what was missing—and I never could.
Until I went to Brandeis. 
Since its founding in the 1950s, Brandeis has nurtured a tradition of creative musical analysis rooted in close readings of individual pieces of music. I didn't learn just to spit back textbook Schenkerian or Forte descriptions but to examine each piece afresh: what it uniquely was doing and how.
This approach wasn't just for analysis; it was also for composing. I learned that compositional magic doesn't exist in theoretical answers. As my co-thesis advisor Yu-Hui Chang constantly told me until I learned what she meant, "You don't need a system."
Musical magic transcends music theory, because theory paints with too broad a brush. Early on, we may think that theory says, "This is how all music works." Weaponized, it sometimes says, "This is how all music should work." In reality, theory only claims, "Here's how this body of songs/pieces works." 
But a body of songs/pieces is NOT a song or a piece. Theory can help you find patterns—but the magic is in the gaps. And understanding those gaps? That's what analysis is for.
"Joseph's music is beautiful and a little brainy—tight intersections of lyrical lines add up to a very pleasurable listening experience. His phrasing and his formal sense are first-rate, and you always know where you are—even when there's the occasional surprise. The joy he feels in writing is palpable."

— David Rakowski, my PhD dissertation co-advisor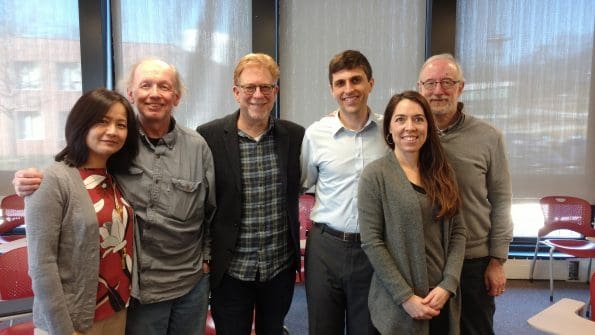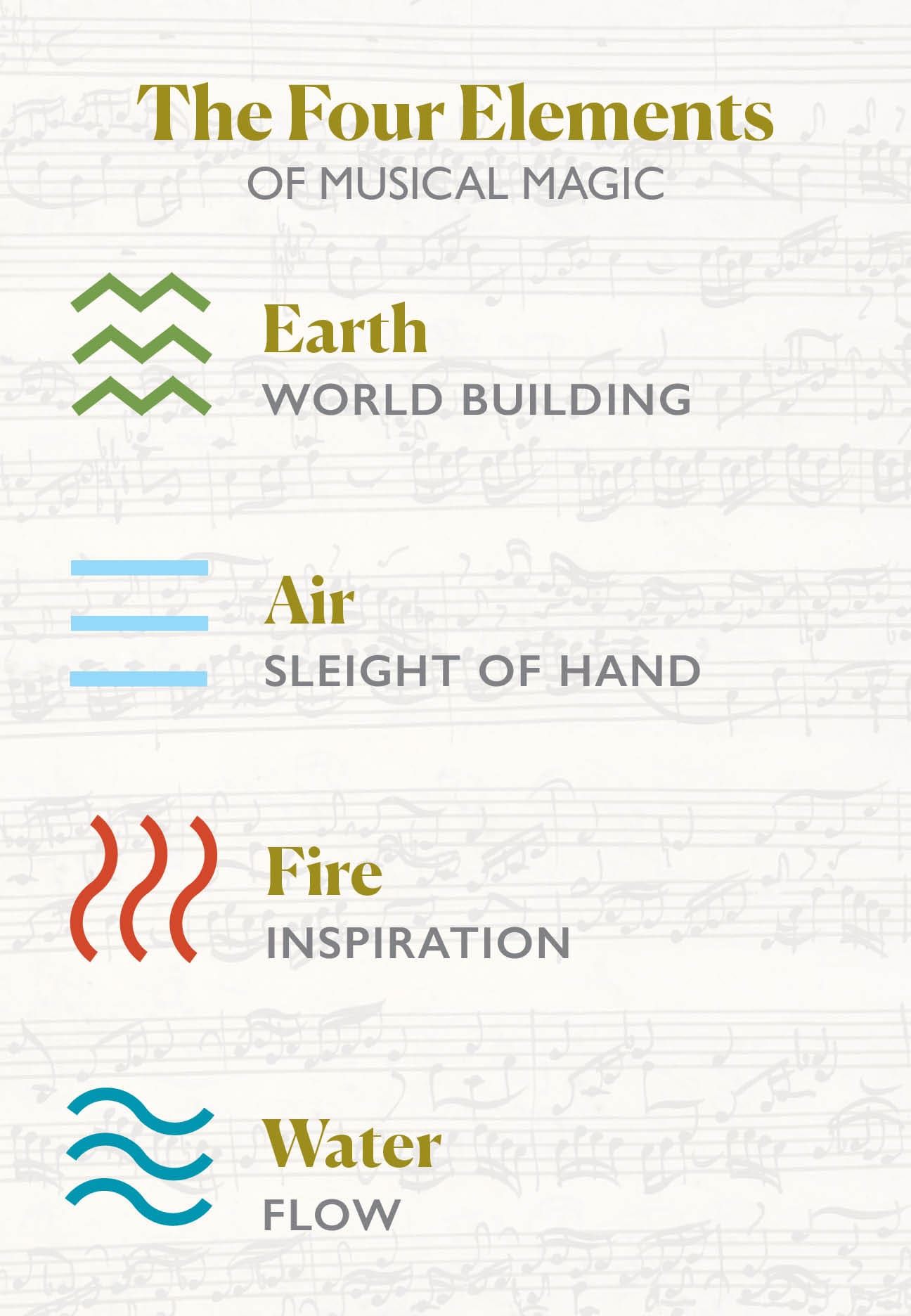 "Joseph Sowa's approach helped break down the process into smaller, less intimidating parts. Sometimes that means defining a creative process in less abstract terms. Sometimes it means suggesting a change to a specific passage I wrote. 
"Regardless of whether I used the suggestion or not, it had the effect of getting me to think in a new way, and would help to get me unstuck on a given piece."
— Joseph Fletcher
A student in the inaugural Spring 2021 class, Joseph runs a successful piano teaching studio in New England.
What You Will Learn at Wizarding School
In the Wizarding School for Composers, you will learn how analysis is your magic wand.
That wand is far more powerful than you might think. It doesn't just unleash torrents of mere intellectual comprehension.
Its real power is how it can weave together the four elements of musical magic.
In fantasy stories, wizards' powers are often tied to how well they can control and combine the four elements: earth, air, fire, and water.
Composing music also has four elements you must master:
World building ("Earth"): mastering the tangible musical materials, like scales, textures, and sounds
Sleight of hand ("Air"): knowing how to arrange these materials)
Inspiration ("Fire"): capturing the meaning behind your materials and their arrangement)
Flow ("Water"): working from a place of ease and curiosity
With these elements at your command, you can unlock any creative door you can imagine to emotion, movement, expression, intermusical reference, extramusical association—and beyond.
As an "apprentice magician," you will learn to use the wand of analysis and the four elements to
Recapture the fun of making music

and

stay in the flow of composing

by identifying and honoring the differences between the creative and editorial aspects of composition.

Compose faster and with less anxiety

by zeroing in on the key variables in every passage you write.

Navigate boldly through the world of tonal possibilities

, including 

Writing memorable, catchy melodies.

Going beyond the circle of fifths, chord symbols, and Roman numerals to discover the secrets of how harmony

really

works.

Using harmony to groove, move, and transfix.

Learning how—and when—to "escape the box" of meter.

Astonish and delight your audiences

by learning to perform musical sleights of hand, including

Consciously controlling the three facets of form: structure, shape and state.

Using repetition and variation to set and defy their expectations.

Juggling your musical ideas to maintain their interest.

Beguiling audiences with musical textures that capture their imagination.
Most of all, you will gain the confidence to judge the quality of your music yourself by replacing imposter syndrome with a sound discernment and understanding of potential musical choices.
How the Wizarding School Works
When you arrive at Wizarding School for Composers, get ready to engage with composition and analysis in a more holistic way than you've ever experienced. Over the course of four months, you will
See one or more original projects through to completion

, including 

Digging into its artistic and technical details

Securing its performance (if it hasn't already been coordinated)

Learn a comprehensive set of analytical and compositional tools

that will help you write truly contemporary tonal music at a professional level

Identify and document your best creative practices

, to help you incorporate those tools into your personal process
The basic package for this transformative experience includes:

3 instruction sessions per month

(2 hours each): I teach you all the analytical tools you need to know to create musical magic and give you assignments by which you can apply them.

3 group composition lessons/application sessions per month

(2 hours each): We'll analyze and discuss your works-in-progress together, review your assignments from the instruction sessions, and answer any questions you may have about composition, theory, and analysis.

Monthly score study sessions (90 min):

We'll analyze the music that matters to you, so you can better understand how it works its magic on you.

Private Facebook Community:

When you have questions between sessions, you'll be able to get the help you need.
For those who want a more personalized experience, the VIP package adds:
Monthly private lessons

(1 hour each): We'll examine your music together in-depth, giving you personalized assignments and feedback, as well as the space to dig deeper into your personal compositional roadblocks and aspirations.

A 

personalized strategy session that will help you expand the reach of your music. We'll lay out a series of concrete, individualized actions for how you can get more commissions, performances, and buzz around your music—regardless of the size of your network.

A

top-to-bottom process inventory

: Together we'll go over every aspect of your creative process and identify personalized solutions to make composing easier, faster, and more fun.
"What I like most about the Wizarding School is the level of attention he gives you individually. He'll give you the big picture, and then he'll work with you on the small details according to your understanding. I feel like you don't get that level of attention just anywhere." — Darrell Tenney
A student in the inaugural Spring 2021 class, Darrell writes EDM under his stage name, D-$mooth.

Want to know more? Try on the Sorting Hat!
Want to learn more about how you can create magic for performers and audiences through your music? Book a free, 60-minute discovery call today. We'll discuss your music and goals, identify what next steps you can take, and explore what the Wizarding School for Composers can empower you to accomplish.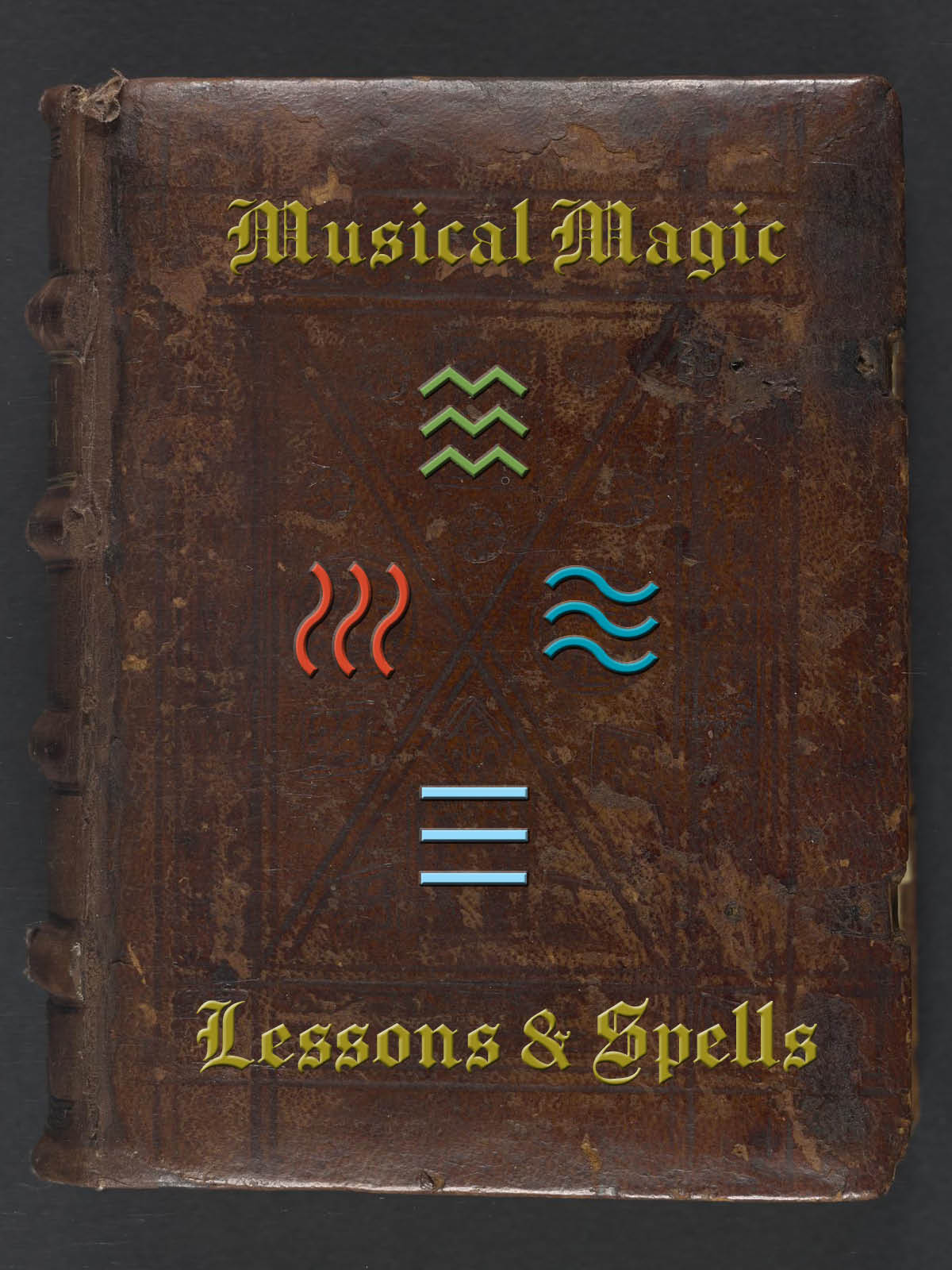 Bonus 1
Access to the full Wizarding School for Composers training library: pre-recorded lectures, score study sessions, PDF cheat sheets, and more. A $1997 value!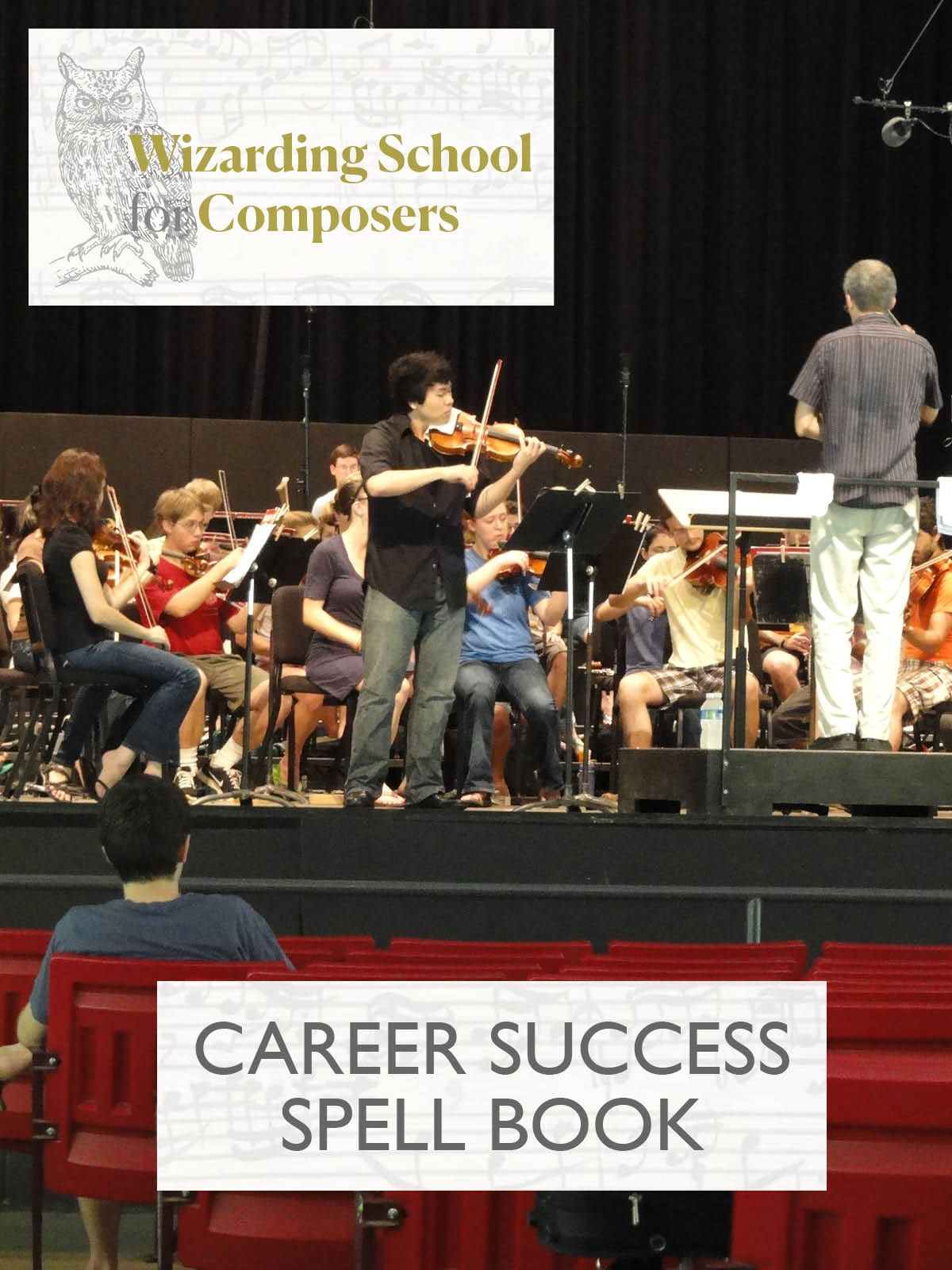 Bonus 2
An invitation to the "Career Success Spell Book" live training—exclusive for Wizarding School for Composers students. Learn how you can get more commissions and performances for your music!
What Else You Get with the Wizarding School
If you sign up for either package by July 31, 2021, you'll get two huge bonuses:
First, you'll get immediate, complete access to the full Wizarding School for Composers training library, comprising pre-recorded lectures, score study sessions, PDF cheat sheets, and more! A $1997 value, this library includes:
More than 25 pre-recorded lectures and masterclasses, covering every aspect of musical magic: World Building, Inspiration, Sleight of Hand, and Flow.
In-depth analyses of classical pieces by Bach, Schumann, Rachmaninov; pop songs by James Brown, Kaskade, Daft Punk; and more.

Each of these pieces and songs are taken apart measure by measure, layer by layer, to expose the deep secrets of how they work.
These analyses explore aspects of music that typically only grad students in theory and composition get to discuss, but in a way that delivers bankable insights for even composers without a formal music degree.

7 PDF cheat sheets, including

"Fundamentals Spell Book": containing the secrets your teacher never taught you about music fundamentals.
"Contrapuntal Models Spell Book": containing 80+ of the patterns that all the 18th- and 19th-century master composers learned, including Gluck, Haydn, Mozart, Fauré, Debussy, Ravel, and Rachmaninov—enabling you, too, to understand music the way the classical masters did.
"Sleight of Hand Spell Book": explaining in-depth the exact tools you need to use in order to make your audience cry, give them goosebumps, or take their breath away.
"Texture Spell Book": showing the elements that will enable your arrangements to pop and sizzle like never before
Second, you'll get exclusive access to a never-before-shared, live, small-group workshop: "The Career Success Spell Book." A $295 value, this training will show you:
What concrete steps you need to take to get commissioned and performed regularly
How you can reach out to performers and ensemble directors to make your own opportunities
What you need to say and who you need to reach out to in order to expand your network
How your career can take off, even without a manager, a publisher, or a university job
Between these bonuses and the regular program features, you will have everything you need to stop dreaming about musical magic—and start creating it.
Is Composers Wizarding School for you?
You're no muggle. You know how deeply music lives in you, but how do you know you're ready for the magic of the Wizarding School for Composers?
You know you can succeed at Wizarding School if you:
Have good enough theory chops to participate in an undergrad theory course:

If you received B's in music theory or know what a "secondary dominant" is, your theory skills are probably enough for this course and likely better than you think they are.

Have been working as a professional musician for at least a year.

You don't have to consider yourself "a composer," but you at least need to show that—in addition to however else you engage in music professionally—you have an established habit of writing and arranging music.

Are willing to let down your artistic defenses:

Sharing your music, like using magic, is personal and can feel dangerous. You need to trust that I'll have your back. My job is not to tell you "what you're doing wrong." No! My job is to be your advocate—for you and your music—against the poor or incomplete training you've received that's preventing you from expressing the fullness of your musical potential.
If these attributes describe you, then you likely have what it takes to accept your invitation to Composers Wizarding School—and begin to live your dream of creating musical magic.
"He worked with everybody on an individual level. It was not only surprising to see the level that he took me from where I was to where I'm at now, but to also see that in the other students. . . . At the end, it was like, 'Wow! I would listen to this. I would pay money to listen to this.'"

— Darrell Tenney
A student in the inaugural Spring 2021 class, Darrell writes EDM under his stage name, D-$mooth.

Board the Train to the Wizarding School!
So now you have your invitation in hand. Your previous education has provided all the supplies you need. The train to the wizarding school is about to board. The castle awaits. . . . 
If you choose to wave the train on, you could spend the decades like I did slowly gathering up your magical abilities.
I don't want that for you. You don't have to struggle the way I did.
I want you to find the satisfaction, confidence, and success that comes from having the compositional, analytical, and process tools that allow you to conjure whatever musical magic your heart desires.
I want you to claim your musical magic swiftly and joyfully. If you choose to invest in yourself:
In just four weeks, you'll begin to see magic in music you had never noticed. 

In two months, you'll begin to get the hang of how to capture your musical vision. 

Within just four months, you can begin to write music that will get performed again and again, that has the staying power of your favorite living composers, and that spellbinds and astonishes audiences.
As your headmaster and professor, I look forward to helping you take that journey.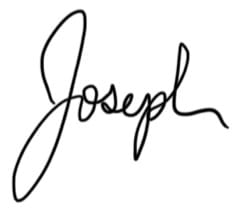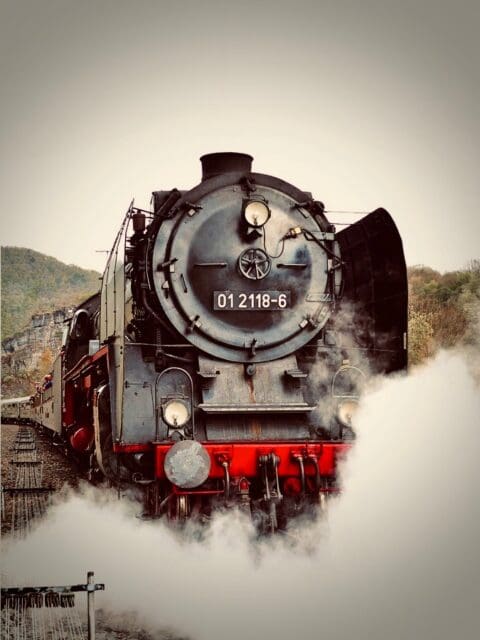 Programs at a glance
Basic

3 trainings per month + assignments (2 hours each)

3 group office hours per month (2 hours each)

Private Facebook community, including support between trainings

Monthly score study session (4 total)

Price:

$2997

VIP

—everything in the Basic program, plus

Monthly private lessons (1 hour each, 4 total)

A personalized strategy session for expanding the reach of your music (1 hour)

A top-to-bottom creative process makeover

Price: $4997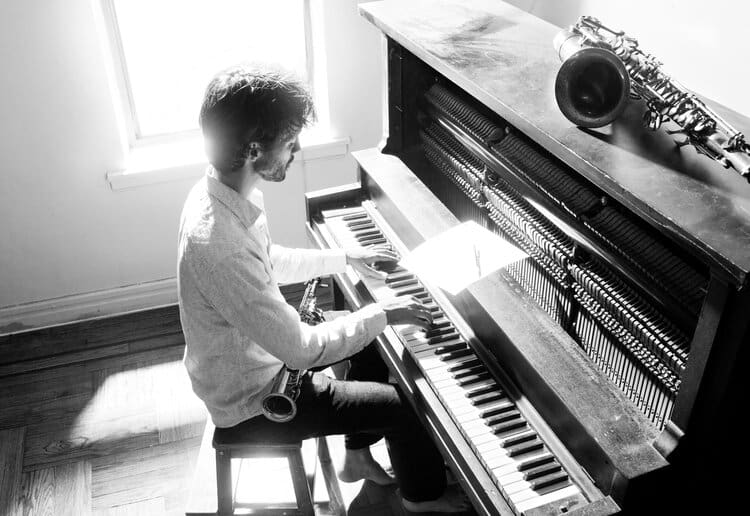 "Joseph has been the most helpful composition teacher I've ever worked with! I was initially struck by how well he understood what was and wasn't working in my music even though our compositional styles are so different. While still celebrating the things I liked, he taught me to hear what I hadn't noticed, and then he pointed out other ways I could use the material I had created in ways that increased the effectiveness of my music greatly whether I was writing for a classical chamber group, a jazz combo, strings, or for a large wind ensemble." — David Ashton

David holds a DMA in clarinet performance from Rutgers and is a NYC-based multi-woodwind performer, improviser, and composer.
Are you ready to make YOUR music magical?
Schedule a free, 60-minute discovery call today. We'll discuss your music and goals, identify what next steps you can take, and explore what the  Wizarding School for Composers can empower you to accomplish. I look forward to joining you on your creative journey.